Once you have signed in, you will be directed to the CloudM Automate default landing page for your domain (as set by your Administrator). This landing page can be set under Settings > Global Login Controls > Landing Page, and can either be URL or HTML.
You can quickly move to the different features of CloudM Automate by selecting the required option from the Functions bar (which is persistently displayed on the left side of the screen), which will prompt the Sub Function bar to be displayed.
You can choose between the following functions: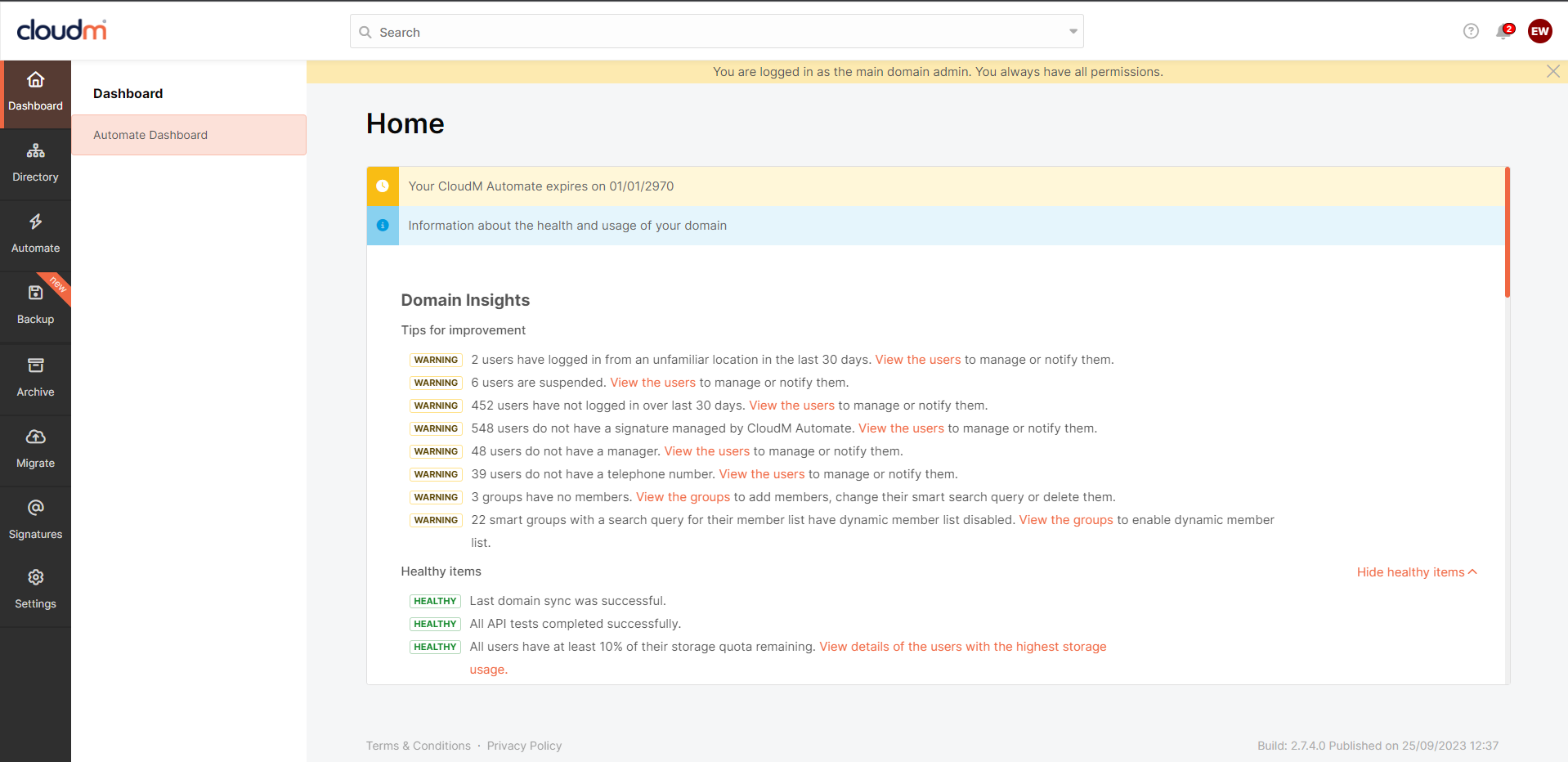 Dashboard - View Domain Insight messages and Product Activity charts
Directory - Create, edit and delete your domain information, such as Organizational Units, Users, Groups, and Contacts. Perform Google Workspace Administrative tasks. 

Org Units
Users
Groups
External Contacts
Dynamic Contacts
Password & Login Controls
Mailbox Delegation
Profile Fields
Automate - Set up automated onboarding and offboarding workflows 

Smart Teams
Onboarding Worflow
Offboarding Workflow
Offboarding Status
Signatures - Create, assign and schedule Email Signatures to Organizational Units and Smart Teams

Email Signature Library
Email Signature Management
Settings

- G

lobal settings to configure settings within the Automate platform.

 Branding
Roles
Domain Settings
On-Premise Integration
Global Login Controls
BigQuery
Logs
The Header bar is also displayed on all screens and has the following elements:
Search bar - You can search your directory to find specific users. For more details, please refer to the Searching in CloudM Automate article. 
Question icon

 

- Selecting the question icon will open up an in-software Help section that displays articles from the CloudM Knowledge Base that refer to the function described on your current page.

Notification Bell icon

 

- Selecting the Notification Bell icon will display the latest notifications.
Profile icon

 

- Selecting the Profile icon will take you to your personal profile page, where you can update your personal information and password.