Once you have signed in, you will see the Projects screen by default. You can quickly move to the different features of CloudM Migrate by selecting the required option from the Functions bar (which is persistently displayed on the left side of the screen). 
You can choose between the following functions: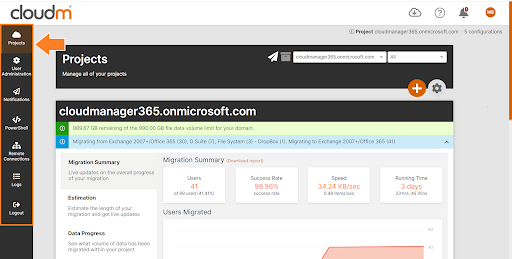 Projects - Automate all of your projects and view the current progress of your migrations.
User Administration - Add, view and edit users that can access CloudM Migrate with permissions to create, configure and start migrations.
Notifications - Make changes to your email notification templates.
Powershell - Enter and execute required Powershell scripts.
Remote Connections - View basic information on each server, download logs and remotely access secondary servers. 
Logs - View an audit log of actions performed within CloudM Migrate by your users.
Logout - Logout of CloudM Migrate.
The Header bar is also displayed on all screens and has the following elements: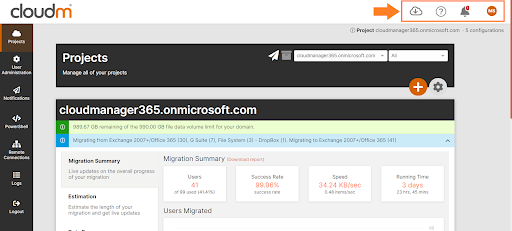 CloudM logo - Selecting the logo will always take you to the Projects screen, which acts as a Home Page.
Available Update icon - If an update is available, the Update icon will appear on the Header bar. Clicking on the icon will take you to the

CloudM Migrate changelog

page in our Knowledge Base, where you can download the latest version of CloudM Migrate Self Hosted.

Question icon - Selecting the question icon will open up an in-software Help section that displays articles from the CloudM Knowledge Base.
Notification Bell icon - Selecting the Notification Bell icon will display the latest notifications, such as a migration being started or completed. Selecting Clear All will remove any notifications from the list.
Profile icon - Selecting the Profile icon will take you to your personal profile page, where you can update your personal information and password.