The following instructions are designed to assist you in migrating mail from Consumer Gmail.
Please make sure that the following prerequisites are complete before continuing onto the CloudM Migrate setup.
Prerequisites
Consumer Gmail username and password for each account.
Less secure app access should be enabled for each gmail account we're about to use - https://myaccount.google.com/lesssecureapps
In order to connect to the Gmail account, log in to each account in the same web browser. Only the log in action is required, so it is ok to close the tab once logged in and log into the next required account.
Destination Platform Prerequisites - Microsoft 365
The following prerequisites are for migrations that use Modern Authentication as the Authentication Method. Modern Authentication is the recommended method as Basic Authentication is being deprecated.
Ensure that you have an Admin User in your Azure AD account. The Global Admin Role is recommended, but not mandatory. Please note that Multi Factor Authentication must be disabled for the specified admin accounts when migrating Microsoft Teams.

Ensure that a Test User has a license with a mailbox.
Source Platform - Consumer Gmail
Choose Consumer Gmail as the migration source and enter your Consumer Gmail settings into CloudM Migrate and then click next.
When migrating from Consumer Gmail, all settings are preconfigured. You simply need to enter user credentials to test.
User Email

- A Gmail email address
User Password

- The password of the Gmail account
CloudM Migrate will now perform a small connection test to verify that the details you have entered are correct. If this fails you may have entered something incorrectly. If you are failing to resolve the issue please contact CloudM Migrate Support.
Destination Platform - Google Workspace
Select Google Workspace as your destination platform.
Select where you would like your data to be migrated. If you have purchased Google Workspace for Business or Google Vault you may want to migrate data directly into Google Vault.
To enable Google Vault for your domain, please see the following article: http://support.google.com/vault/bin/answer.py?hl=en&answer=2584132
Enter information for your Google Workspace admin account.
CloudM Migrate will perform a connection test against your Google Workspace domain to verify that everything has been entered correctly.
If your Google Workspace system is brand new or for any reason the users being migrated have not been created in Google Workspace, CloudM Migrate can create your users for you. Simply go to advanced settings, to the user settings section and enable Create Users.
Select which users to migrate
It's now time to add which users you'd like to migrate.
Unfortunately when migrating mail from Consumer Gmail you will not be able to use the Get Users button from the actions menu. You can manually import users via a CSV file using the Import Users option or simply add them individually via the plus icon.
Selecting a star next to any specific user or users will prioritize their migration. When a migration starts, threads will be assigned to any starred user so that their migration can start immediately.
At this point you can choose what to migrate for each user, when migrating from Consumer Gmail you can migrate only mail .
Enter your user's full email address within the Export Name field. If you have already created your Google Workspace users then you will just need to enter their username.
Select how much mail to migrate
CloudM Migrate lets you decide how much mail you'd like to migrate to your shiny new system.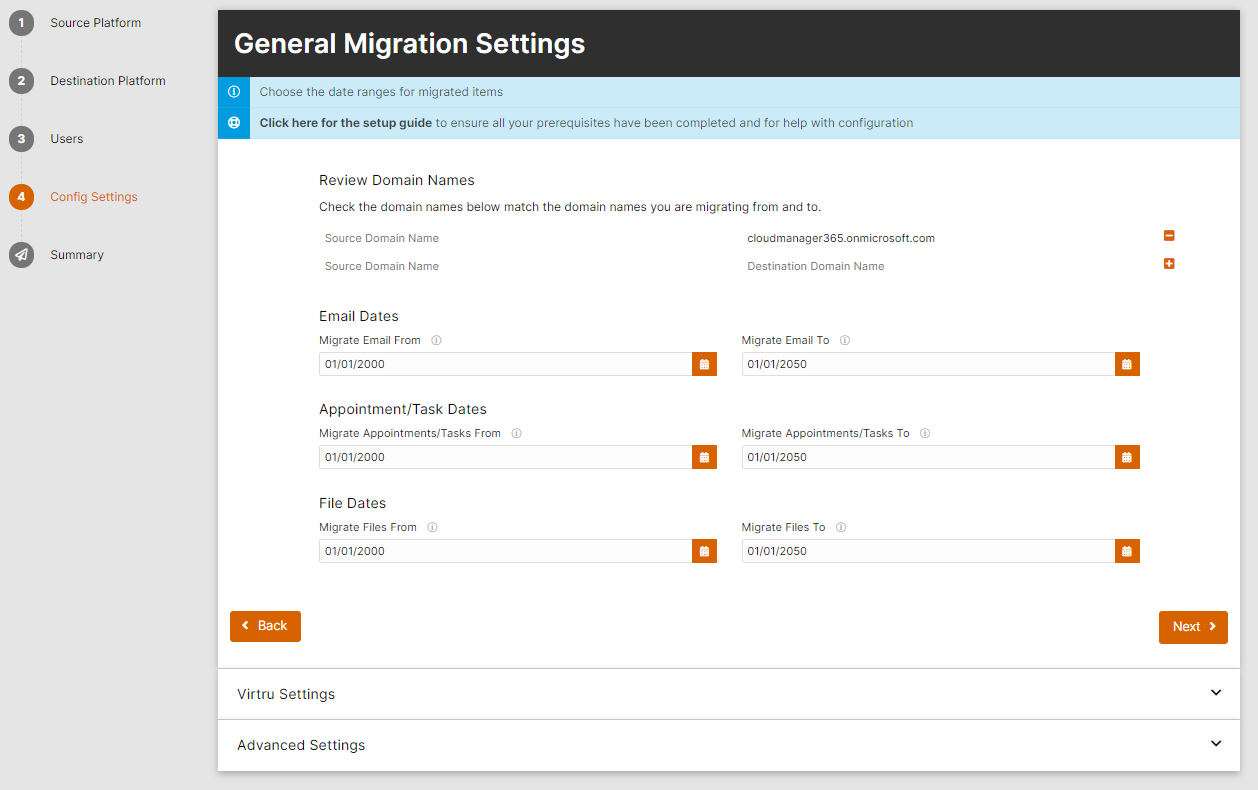 If you are changing your email address as part of the migration you can verify that the domain names are correct here. You can also specify specific address replacements in the respective section of the advanced settings.
For more information on domain and address replacements, see this page.
Start your migration
We know that you may want to start your migration in the middle of the night, or over the weekend, but we don't expect you to stay up in order to do so. With CloudM Migrate you can decide to schedule exactly when you'd like the migration to occur.
Start the migration.
Review your migration results
During the migration process CloudM Migrate will report back in real time exactly who is being migrated and the items being processed. All you now need to do is sit back, relax and wait for your migration to complete.
Check the progress of your migration.
Once complete you can download a full report for your migration.
For more information about this page, please visit the summary page.