In order to successfully migrate Microsoft 365 Groups, configure the Microsoft 365 Source and Platform advanced settings as below:
These details are added within platform Advanced settings:
These details can be gathered by Microsoft 365 Groups Azure App Registration - Source or Destination
Basic Platform Settings
Advanced Settings - Microsoft 365 Groups
Export Chat Message Type: Export Microsoft Team Channel Conversations as Email, Document or both.
Maximum Results Per Request: The maximum number of results to return for individual queries.
Test Office 365 Group Email: The full email address an Office 365 Group used to test connectivity
Timeout: The timeout for operations with the server.
Retry Count: The number of times operation will be attempted before failing.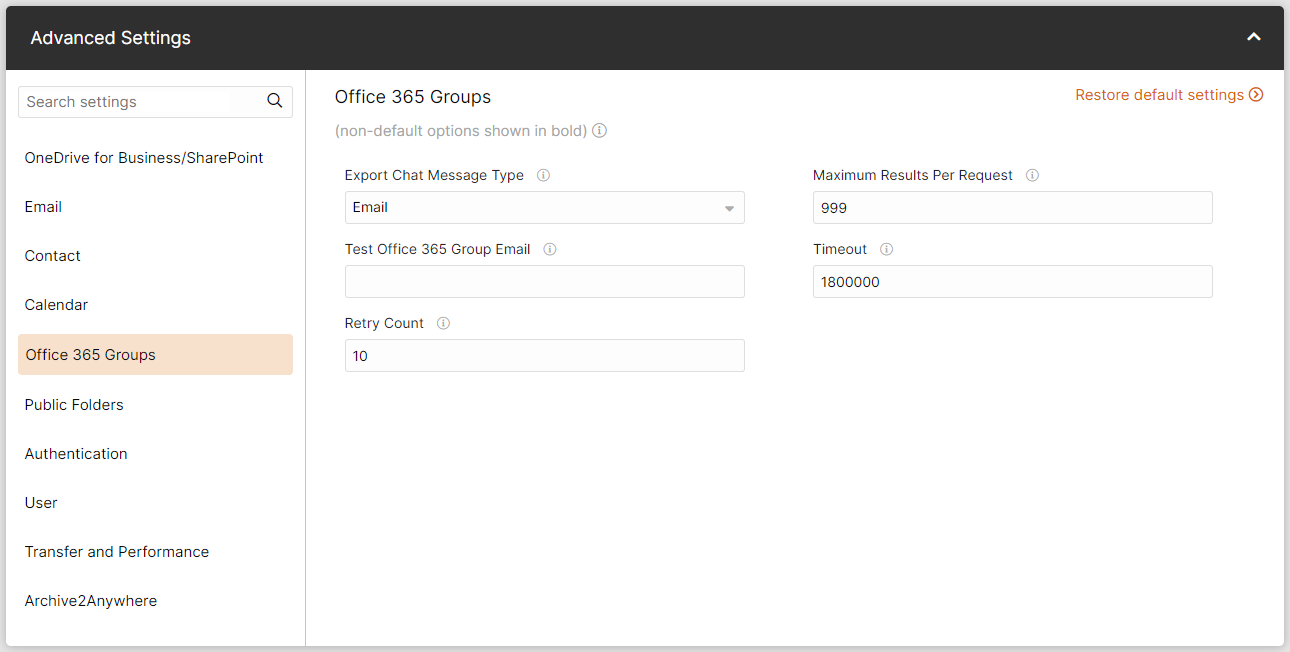 Supported Item Types
Microsoft 365 (as destination)
|   | Microsoft Team | Microsoft 365 Group (Unified Group) | User | Resource | Public Folder | Team Site |
| --- | --- | --- | --- | --- | --- | --- |
| Group | Microsoft Teams | Microsoft 365 Group | User | Resource | Public Folder | Team Site Library |
| Group Owners | | | | | | |
| Group Members  | | | | | | |
| Group Mail | | | | | | |
| Group Calendar | | | | | | |
| Group Files | | | | | | |
| Group Settings | | | | | | |
| NoteBook | | | | | | |
Google (as destination)
|   | Google Group | User | Resource | Team Drive |
| --- | --- | --- | --- | --- |
| Group | Microsoft 365 Group | User | Resource | Team Site Library |
| Group Owners | | | | |
| Group Members  | | | | |
| Group Mail | | | | |
| Group Calendar | | | | |
| Group Files | | | | |
| Group Settings | | | | |
| NoteBook | | | | |