CloudM Migrate Hosted
If you are using CloudM Migrate Hosted, the configuration file for your migration is not available to you. Please open a support ticket via our Help Centre and tell us your destination migration domain for us to investigate.
Step-by-step guide
CloudMigrator Desktop UI
When using the CloudM Migrate desktop UI, you are prompted throughout to save your Configuration. The file is saved in XML format, and the location is as you save it.
Go to File / Load Configuration to find this if you are unsure.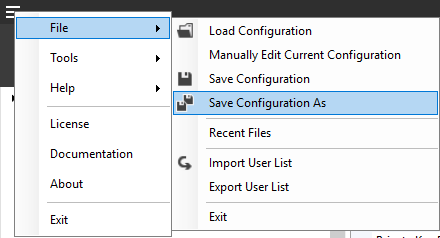 CloudM Migrate Web Application
Go to the Projects page.
Hover over the gear cog icon.
Select Export Config.

CloudM Migrate Hosted (formerly CloudMigrator GO):
You cannot export your config from the Online tool, but we have backend access to it, so please just let us know that you are utilizing this version of the tool and we'll take it from there.