While the default options are recommended for the majority of organisations, CloudM Migrate gives users the ability to customise their migration experience. The following are some of the Advanced Options available to customers migrating from Google Workspace. Changing some of these options will change the way data is migrated.
Appointment Options
Migrate Hangout Links – migrate Hangout links within appointments by adding them to the body of a migrated appointment.
Chat Options
Migrate Chat History – Migrate Google Chat messages to the destination system. In the destination, migrated chat messages appear as email messages (in batches).
Migrated Chat Label – The label or folder to apply to migrated chat messages.
Chat migrations will only be supported if the Google App setting for Chat and Classic Hangouts is set to "Chat and Classic Hangouts".

The setting can be accessed via the Google Admin console:

Apps > Google Workspace > Google Chat and Classic Hangouts > Service status

Any Chat items created when 'Chat only' is enabled cannot be migrated, even if the Chat and Classic Hangouts option is subsequently switched on. This is caused by Hangouts returning via Gmail search operators (in:chats) which we use to filter chat messages, but chats are not returned using the same method.
Document Options
Migrate All Drive Items – W

hen migrating from Google Drive, migrate all required files when processing the migrating user. This can result in files not belonging to the migrating user being migrated. This should normally be enabled. Setting this to false means that only items that the migrating user owns will be migrated, and all folders within their folder structure will become owned by the migrating user. This is almost always not recommended. If this option is used and then disabled and another migration performed, duplicates will likely be created.

Migrate Items Only From Listed Users - M

igrate only Drive items from those users listed on the users tab. 'Migrate All Drive Items' should also be true for this setting to apply. If you want to migrate items from users other than those being migrated, be sure to include them on the users tab but do not select them for migration.

Migrate Items Only from Listed Users' should be used with care, especially if you are migrating an entire domain. If you are migrating all of your users during a migration, you should not select this option for any part of your migration. If you do use the option, you should ensure that your user list is fully correct before starting the first migration.

Migrate Contents of Non-Owned Folders - Migrate contents of folders not owned by the migrating user. This usually only needs enabling when some users are not migrated to the destination and you want to ensure all content is migrated. It is not normally needed.
Migrate Orphaned Folders – Migrate orphaned Google Drive folders that have no parents. This can cause a migration to take longer due to an increase in the required number of requests. Note that orphaned files are always migrated.
Preserve Modified Date – Attempt to preserve the modified date of any migrated files.
Exclude External Permissions -

Only Migrate permissions from users/groups that are members of the source Google Workspace tenant.

Maximum Results Per Request – The limit on the number of results returned when listing files using the Google Drive API.
Export Documents Path Folder - Enabling the Export Documents Path Folder setting will export the folder specified in Documents Path when adding the item to the migration.
If Export Documents Path Folder is unchecked,

this will export the contents of folder. In the example shown in the following screenshot, this will export all items listed under the folder named "Level 1", but not the folder itself.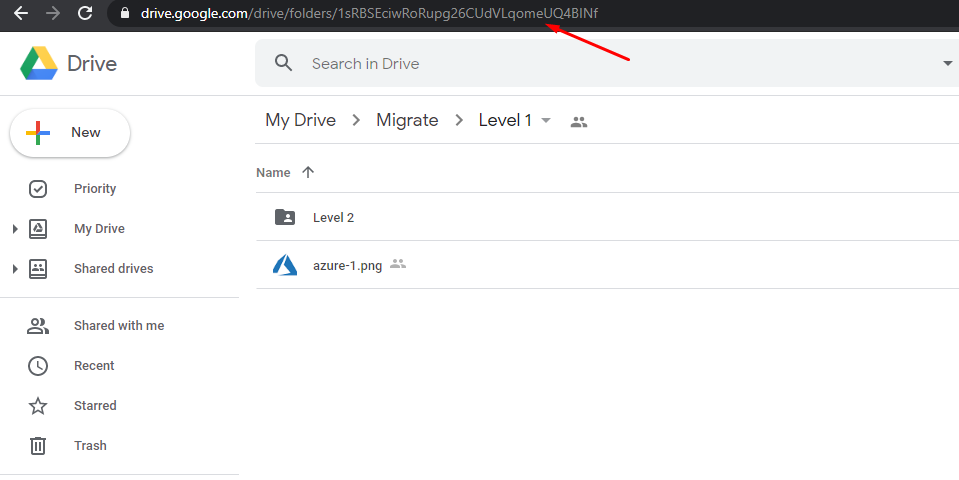 If Export Documents Path Folder is checked,

this will create the Level 1 folder in the destination and export all its contents.
Email Options
Gmail API Filter Override – when using the Gmail API to migrate email, CloudM Migrate will normally build the required filters to migrate email according to your settings. Use this option to specify an explicit filter that can be used to override the default behavior. Note that if this option is provided then date ranges and folder settings that you have set elsewhere in the configuration will be ignored. For more information about advanced Gmail filters, see: https://support.google.com/mail/answer/7190
Use Limited Scopes – for email migrations use Limited Scopes. This requires the following scopes to be enabled : 'https://www.googleapis.com/auth/gmail.labels' and 'https://www.googleapis.com/auth/gmail.readonly'
Migration Options (Google)
Allow Missing Special Folders – Allow a migration to proceed if any of the 'special' folders (All Mail/Trash/Starred/etc.) are not visible via IMAP due to user settings. Note if this is set to true, then it is possible that some email for users may be missed. This option is not relevant when using the Gmail API for migration.
Comment Options (Google)
Migrate File Comments

- allow the migration of Google Document comments. Please review the following article before enabling this feature.

Maximum Results Per Request

- the maximum number of results to return for individual queries to the Comments API.