File Ownership
Please ensure that the file content you are migrating from File System is owned by the users you wish to migrate.
Prerequisites
The workstation running CloudM Migrate must have access to the file paths where the files to be migrated are stored.
If using multi-server you map the location of the files to the secondary machines. See

this article

for information.

You should make sure that the CloudM Migrate service has access to mapped drives if the files are located there. Please

see the article on making mapped drives available

for more information.
Start a new configuration project
Login to CloudM Migrate,

Select

Projects

in the Functions column on the left side of the screen,

Select the

Add

button (+ icon) to prompt the section to expand,

Select the

Create a new project

option,

In the pop-up box, select the Destination platform (the platform that you want to migrate all of your users and data to) and enter the Domain Name (the destination domain you are migrating to), a Configuration Name of your choice and License Key.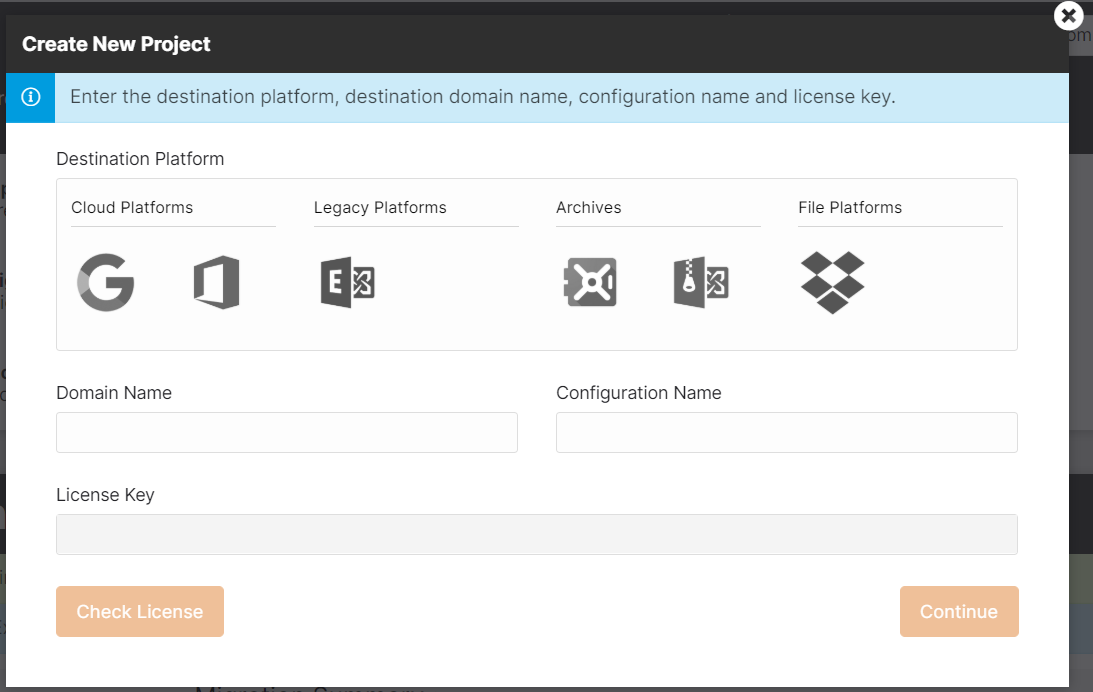 Select

Check License

to ensure that the license entered is valid for the destination platform that you want to migrate to.

Select

Continue

.

The project will now be displayed in the domain drop down menu at the top of the screen. Make sure that the project is selected.
Create a new configuration
To create a new configuration:
Select the

Create a new configuration to get started

option.

In the pop-up box, select the Destination platform (the platform that you want to migrate all of your users and data to) and enter a

Configuration Name

.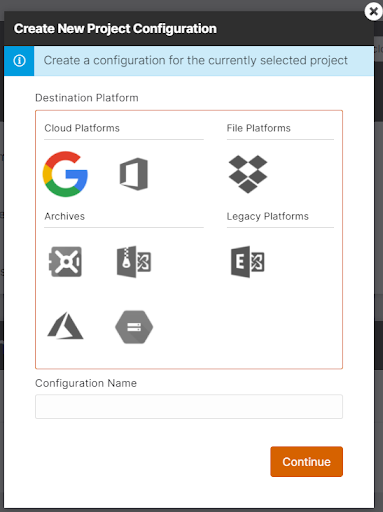 Select

Continue

.

The configuration will now be displayed in the

Configuration Overview

.
Once the configuration is created, it will be displayed in the Configuration Overview table. Select Configure, enter a CloudM license key and select Apply to start the configuration process.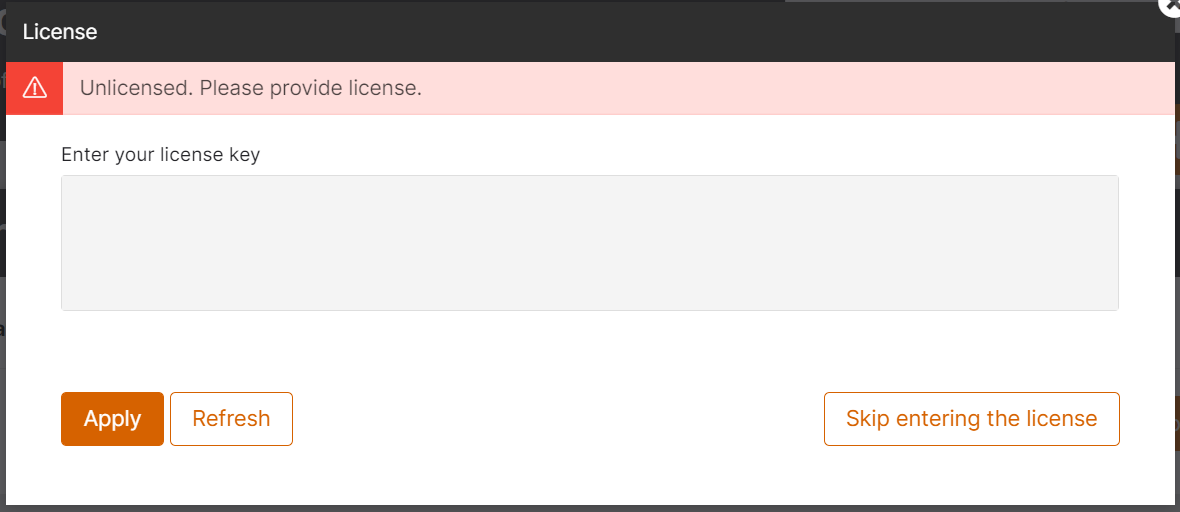 Configure Source Platform Settings - File System
Choose File System as the migration source and enter your File System settings into CloudM Migrate and then click Next.
Document Options
Migrate Top Level Folder

–

Migrate the folder hierarchy into a top-level folder named the same as the top-level folder specified in this option. The first top level folder name migrated to will be fixed for future migrations

.
File System Document Sharing

– specify how to share files migrated from the file system. Note that when migrating to Microsoft OneDrive, email notifications are not sent.
Excluded Account Permissions

– specify a list of login users who's file ACLs will be ignored. For example, an ACL for 'NT AUTHORITY\SYSTEM' is present on all files. To ignore this ACL, specify this value in this option. In order to help list the possible permissions for a particular system, an option is available in the Tools menu to list all local and Active Directory users under 'Tools > File System > Export User List'.
Set Migrating User as Owner - Change the owner to the migrating user. This setting also ensures that the file owner from the file system is added as a writer at the destination.
Active Directory Options
Resolve Email Addresses

– attempt to resolve NTFS permissions to email addresses. Email addresses for users are obtained from Active Directory and CloudM Migrate must be installed on a workstation connected to Active Directory and logged into Active Directory as a user with permissions to read users from the Directory. If migrating files only from a local workstation, not connected to Active Directory, set this option to false. For more information about how ACLs are mapped, please see the specific section

regarding file system migrations.
Configure Destination Platform Settings - Google Workspace
Select Google Workspace as your destination platform.
Select where you would like your data to be migrated. If you have purchased Google Vault, you may want to migrate data directly into Google Vault.
To enable Google Vault for your domain, please see this article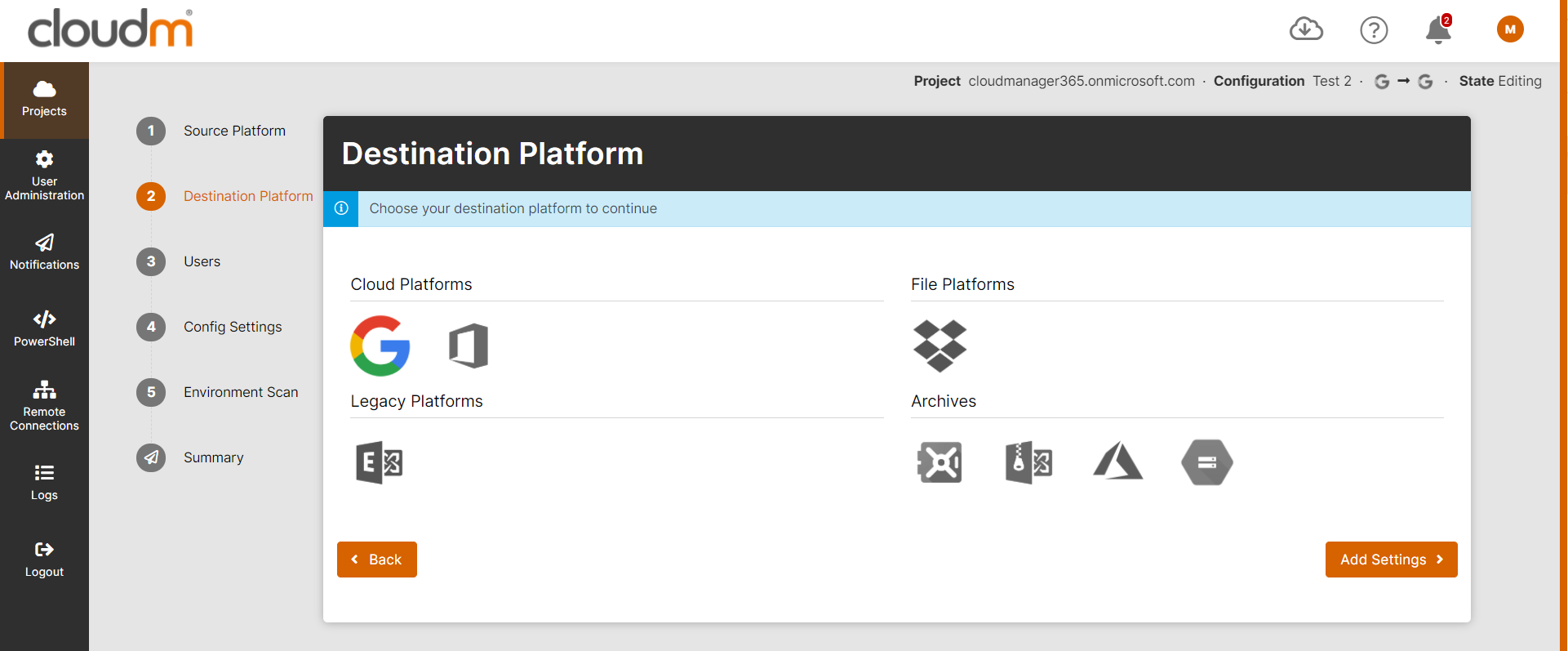 Select Add Settings.
Enter information for your Google Workspace admin account.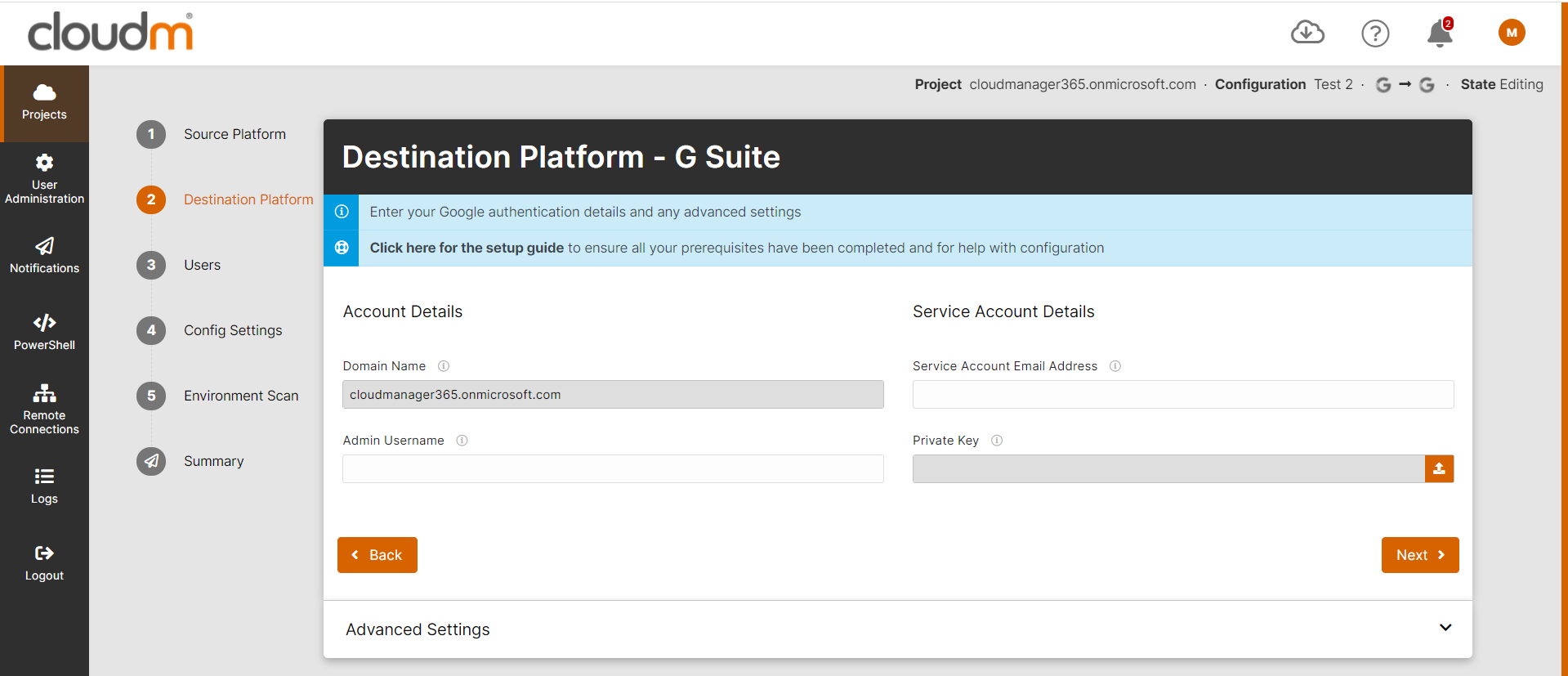 Domain Name

- The domain name you will be migrating from. This should be the Internet domain name, not the local domain name.

Admin Username

- An administrator account for the domain specified, this will usually be an email address for a Super Admin.

Service Account Email Address

- Before attempting to configure CloudM Migrate, you should have created a Google Cloud platform project and created a service account for it. Input the service account's email address in this field.

Private Key

- The file path to the P12 key that was generated and downloaded when creating the OAuth service account.
If you cannot find the private key, go back to Google Cloud Platform service accounts, select your project (if not already selected), use the option button on the right of the service account and click Create Key. Select P12 and download the key file.
All

Advanced Settings

are set to a default value, designed to ensure that your migration will work without additional configuration. You should only edit the Advanced Settings if instructed to by CloudM Support or in a CloudM Knowledge Base article.
CloudM Migrate will perform a connection test against your Google Workspace domain to verify that everything has been entered correctly.
If your Google Workspace system is brand new or, for any reason, the users being migrated have not been created in Google Workspace, CloudM Migrate can create your users for you. Simply go to Advanced settings > User section and enable Create Users/Resources/Groups/Shared Drives.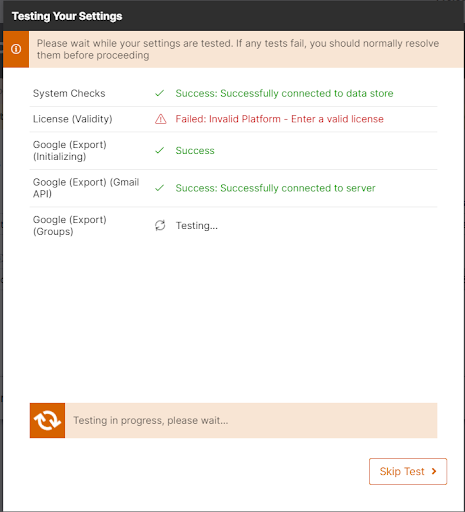 Configure Destination Platform Settings - Microsoft 365
Basic Platform Settings
Choose Microsoft Office 365 as the migration source and enter your Microsoft Office 365 settings into CloudM Migrate and then click Next.
All Advanced Settings are set to a default value, designed to ensure that your migration will work without additional configuration. You should only edit the Advanced Settings if instructed to by CloudM Support or in a CloudM Knowledge Base article.
Set the following settings:
Office / Microsoft 365 Plan - Set to Office 365
Authentication Method - Choose the authentication type that will be used with the server. For Microsoft 365, set to Modern.
Domain Name - The domain name of the Exchange domain. This should be the internet domain of the Exchange system and not the local domain name.

This might be the part after the @ in your administrator email address.

If migrating from several different domains, several migrations will be needed.

Admin Username - The email address of a global administrator within your Microsoft 365 environment.
Admin Password - The password for the global administrator account specified earlier.
Test Username - The email non-admin user who is already present in the system to test connections.

Specify a primary SMTP email address (or just the part before the @ symbol and the domain name will be appended). The test user must have an active mailbox.
If you have Modern Factor Authentication (MFA) enabled:
Authenticate using the Powershell Script (as detailed in the Modern Authentication for Microsoft 365 article). You will not be able to use the web application to authenticate due to logging in issues caused by MFA.
Once the Powershell process has been completed, click Next to trigger a connection test.
If you do not have
Modern Factor Authentication (MFA)
enabled:
Click the Create Azure AD Application button, and click the button again in the popup.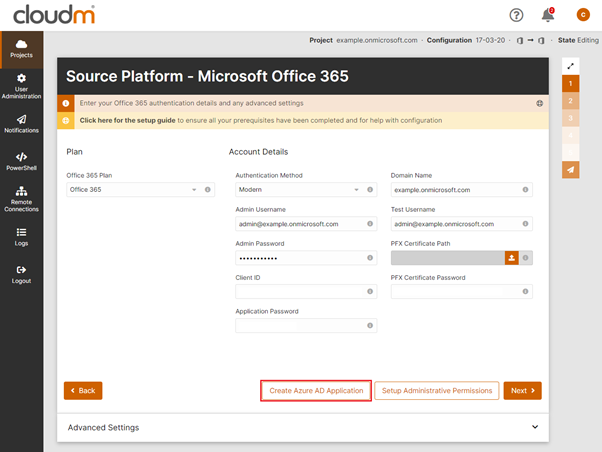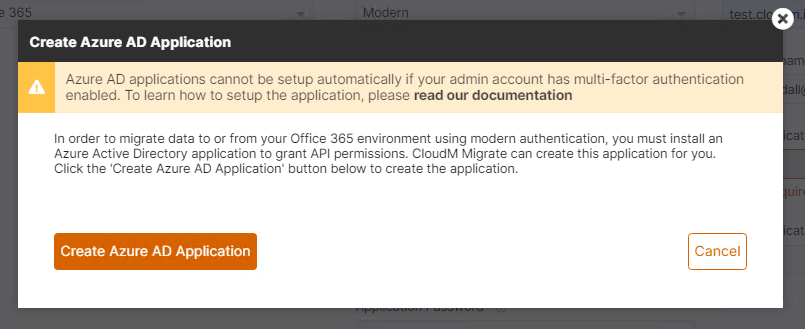 The Client ID, Certificate Path and Certificate Password fields should now be set. Click the Next button to test the connection.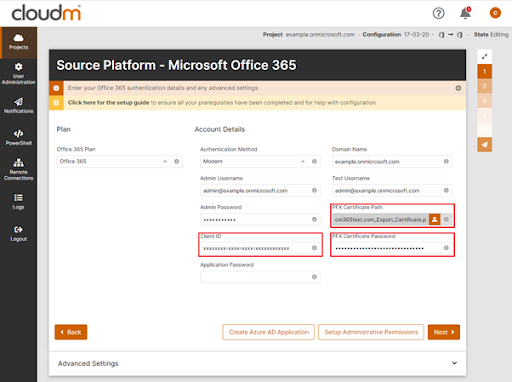 Migrate files to Microsoft 365
If you want to migrate files to Microsoft 365, you will also need the Sharepoint Admin URL. The URL will look similar to the URL below:
https://tenant-admin.sharepoint.com.
To input the URL, click Advanced Settings and locate Sharepoint Admin URL under the OneDrive for Business/SharePoint settings.
Connection test
Once you have configured the Platform settings, click on Next. CloudM Migrate will now perform a small connection test to verify that the details you have entered are correct.
If this fails, you may have entered something incorrectly. If you still cannot resolve the issue, please contact CloudM Support.
Select which items to migrate
It's now time to add which items you'd like to migrate.
To add the items from that you want to migrate from your source platform to your destination platform, select Add items to migrate drop down menu and click on one of the following options:
Bulk add / import items

- Upload a CSV file to bulk add items.

Add User

- Manually add an item of the selected item type.
Please note that the Get Items from source is visible but should not be used.
Refer to File System Migration article for details on migrating to different destinations (Google Drive, Microsoft OneDrive or SharePoint).
Selecting a Star next to any specific user or users will prioritize their migration. When a migration starts, threads will be assigned to any starred user so that their migration can start immediately.
Enter your user's full email address within the Export Name field.
When migrating File System files, you must specify the Folder Path for each user you want to migrate in the 'Documents Path' setting.
Select how much content to migrate
CloudM Migrate lets you decide how much content to migrate to your domain by specifying required date ranges.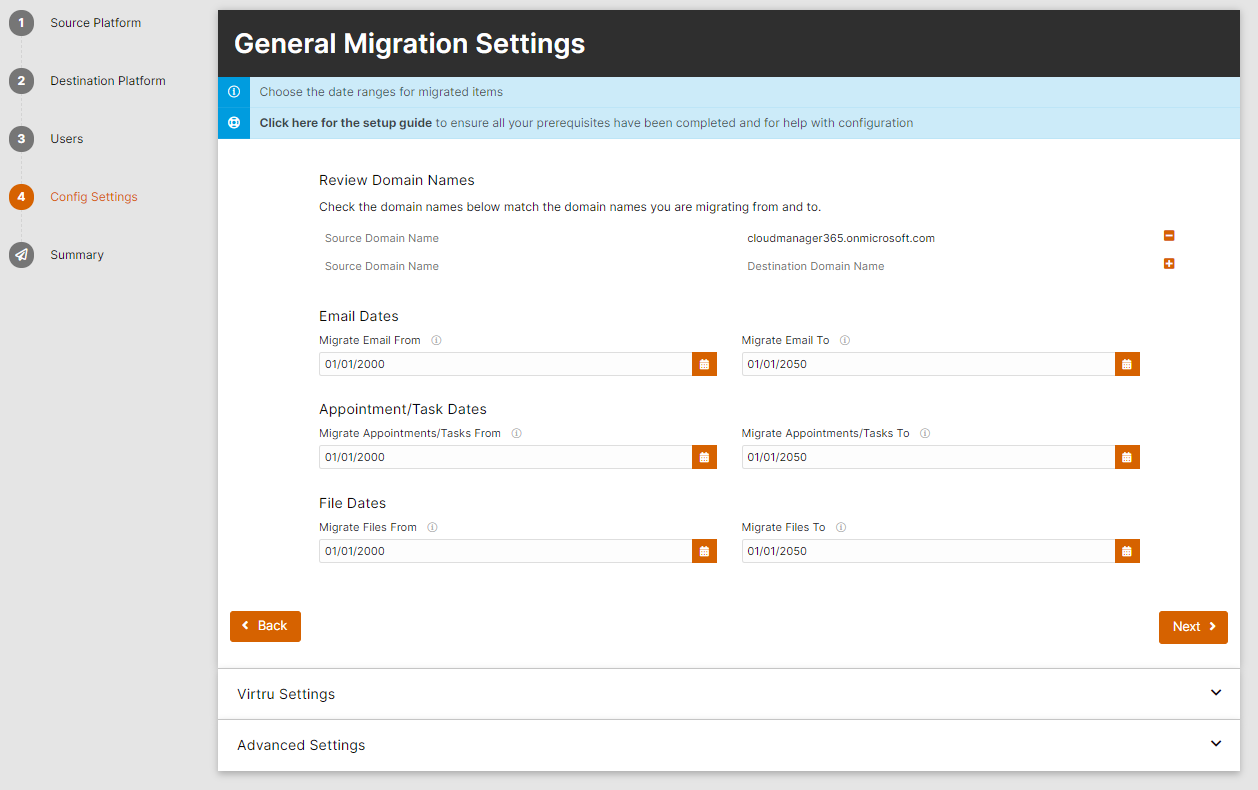 If you are changing your email address as part of the migration you can verify that the domain names are correct here. You can also specify specific Address Replacements in the respective section of the advanced settings.
Target Audience permissions can also be migrated but they must be replaced using Address Replacements in order to migrate successfully. If they are present on the source but not migrated to the destination platform, any items shared with it will be shared back to the source Target Audience.
Environment Scan
Environment Scan allows you to plan and prepare your migration by performing analysis of your source file and mail environment and reporting important information such as item counts, data volume, permissions, and folder depth.
Reports are produced which can be exported and analysed. Using the information provided you can estimate your migration's duration more accurately, and address any potential issues before your migration even begins.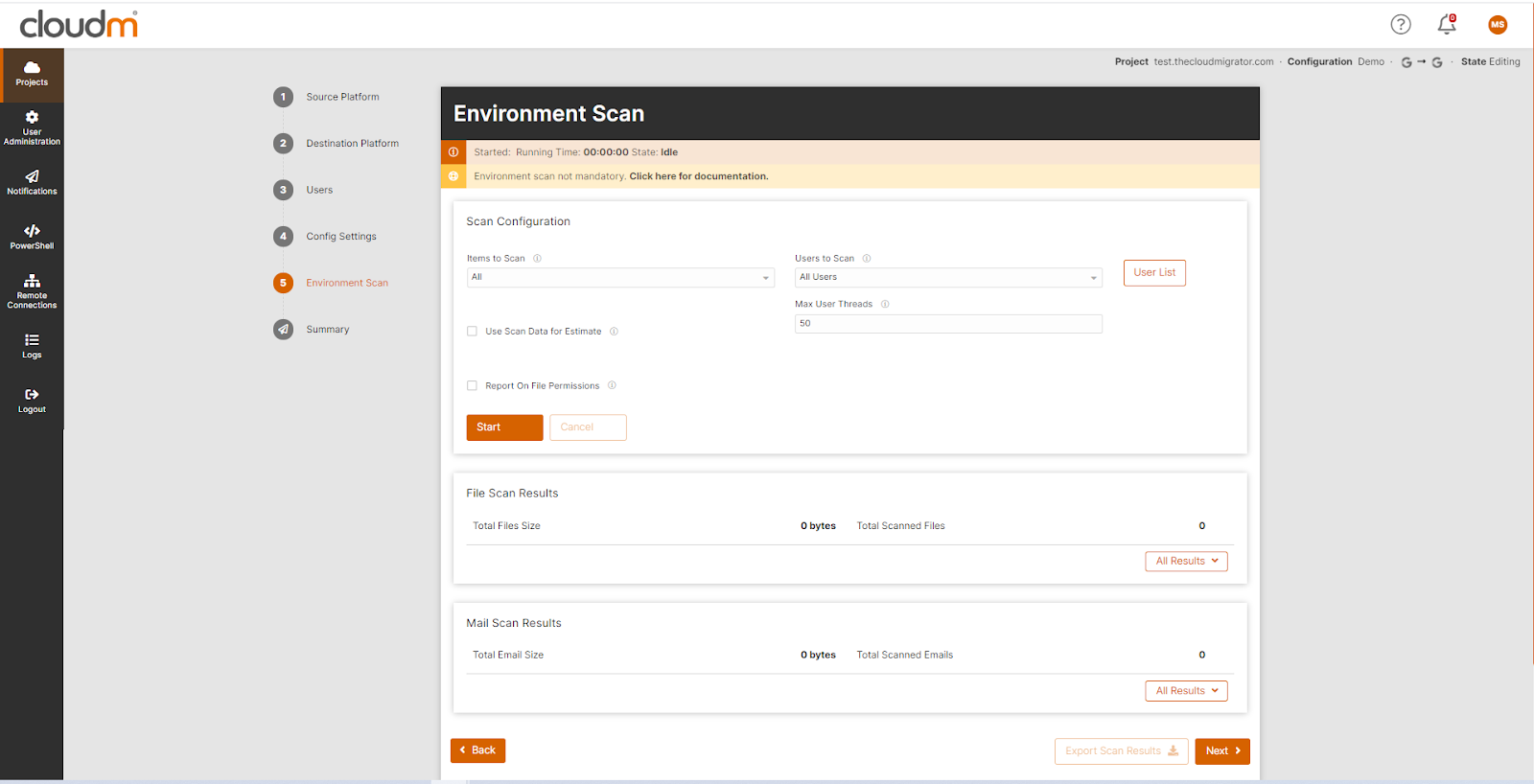 Selecting Scope of Scan
Items
Depending on your source platform, you can choose to scan files, emails, or both sets of items.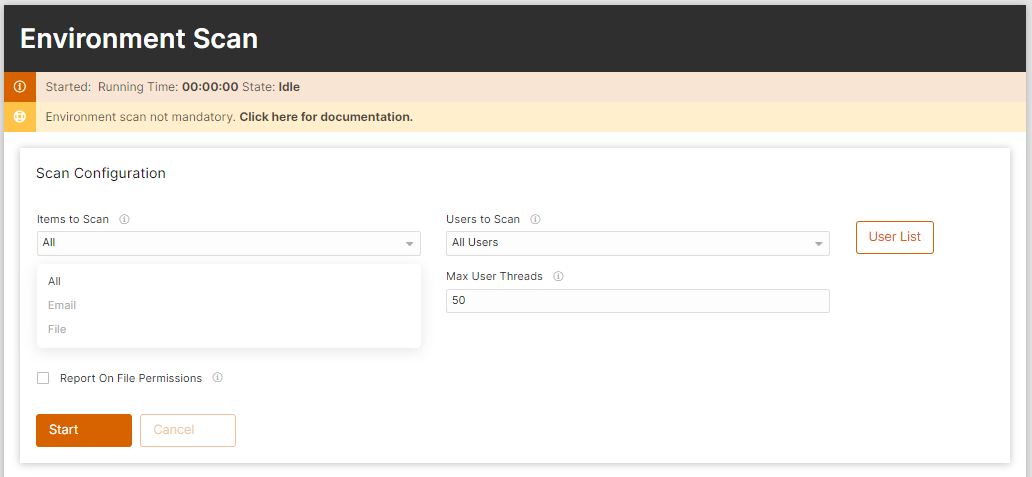 Leaving the Report on File Permissions setting unchecked will speed up the Environment Scan process.

In order to include Report on File Permissions in the process, you will need to check this setting AND enable Document Sharing (or a setting related to document sharing) in the Source Platform settings. If either is not enabled, the Environment Scan will not scan or report on File Permissions.
Users
Your CloudM Migrate userlist is used to define the scope of the scan. You can choose to scan all accounts from your list, or restrict the scan to users selected for migration.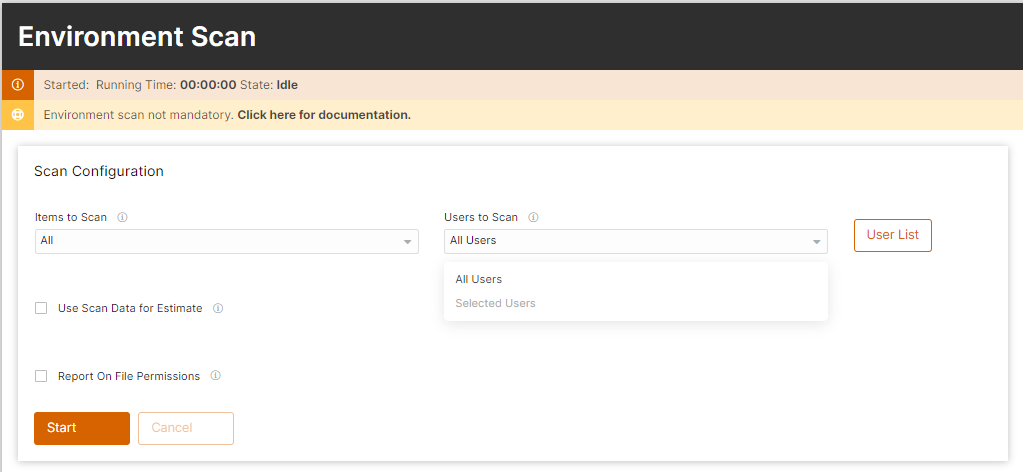 How to run an Environment Scan
After entering your source and destination server settings, populating your userlist, and configuring your settings, you will be prompted to run an environment scan. It is optional, but recommended, for all file platforms.
Click Start and then confirm by selecting Start Environment Scan on the pop-up box to begin the scan. CloudM Migrate will connect to your source environment and capture file and / or mail information. This can take up to several hours, depending on the amount of data present.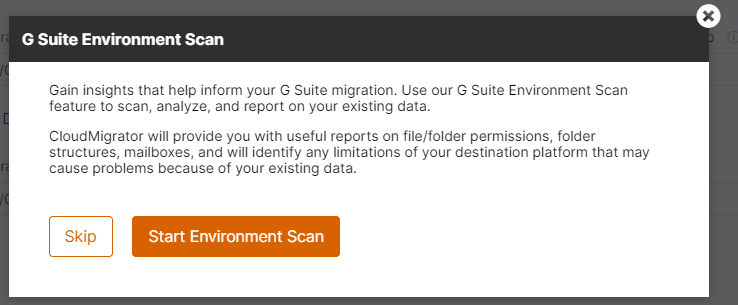 Once the scan completes, the data is reported on the Environment Scans page and can be exported to file, using the Export Scan Results option.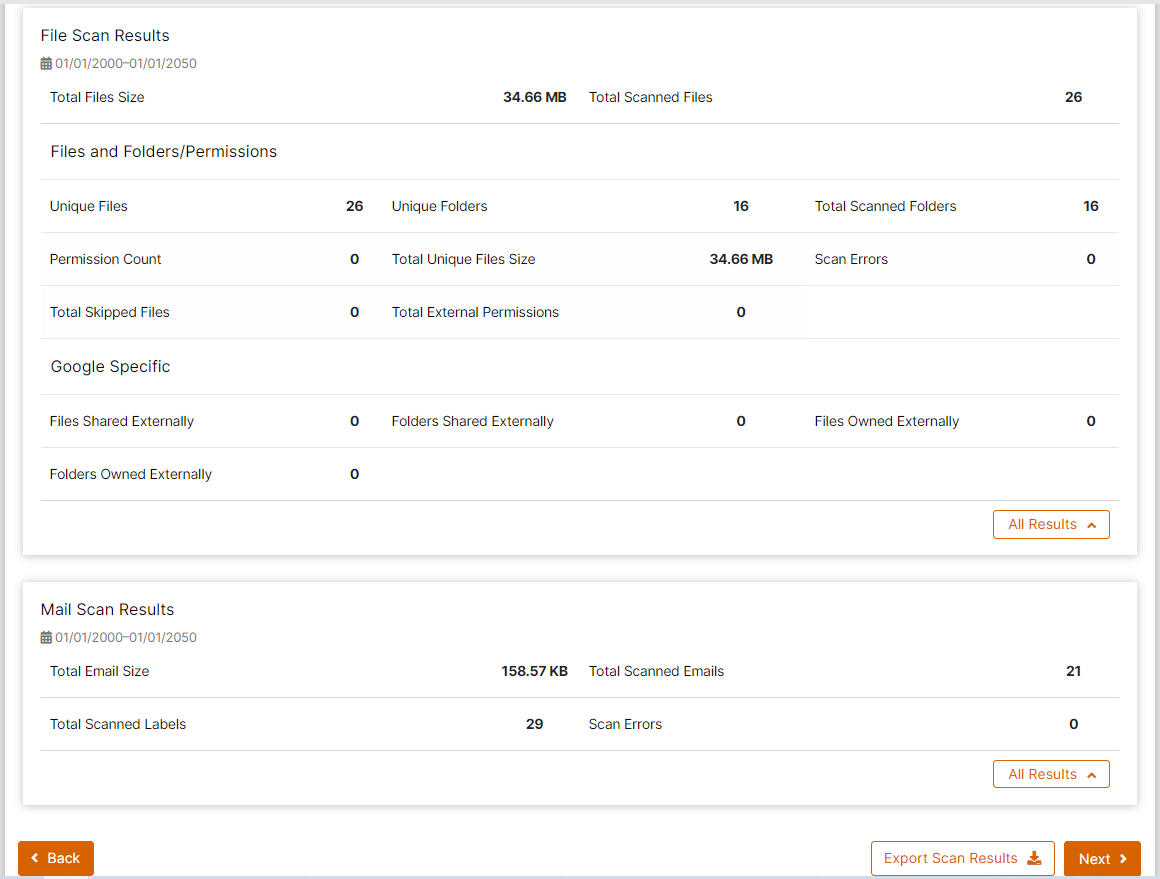 Start your migration
We know that you may want to start your migration in the middle of the night, or over the weekend, but we don't expect you to stay up in order to do so. With CloudM Migrate, you can decide to schedule exactly when you'd like the migration to occur.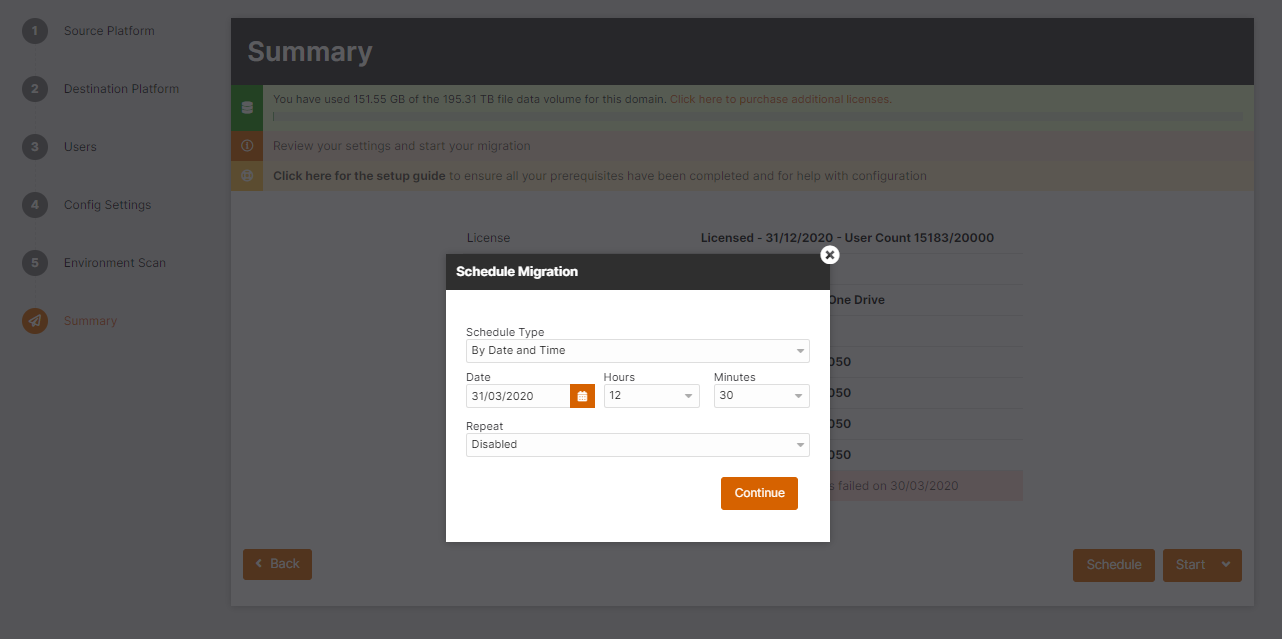 If you want to start the migration straight away, select Start.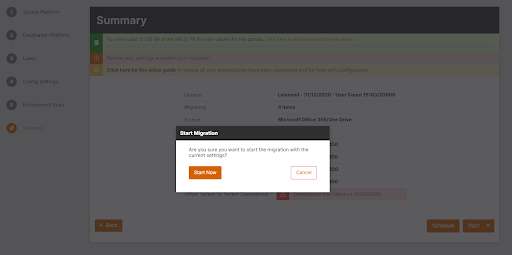 Migration Readiness Test
The Migration Readiness Test provides a last check before starting a migration (regardless of the source or destination platform - with the exception of PST Archives, Google Cloud Storage and Microsoft Azure Storage). The Drive Readiness Test is now included as part of the Migration Readiness Test.
The test will be optional but is highly recommended, especially in cases where the user has made numerous changes to their configuration. You can only run one Migration Readiness Test at a time.
The test includes:
Checking where changes have been made to general and advanced migration settings (differing from the default values) and suggest any potential issues that these settings could cause,

Scanning the Source and Destination platform to ensure that the connections work properly,

Flagging up any additional limitations, allowing users to resolve any issues before their migration begins.
To run the Migration Readiness Test:
After conducting an Environment Scan, select Next,
On the Summary screen, select Start (or click on the Migration Readiness Tests field),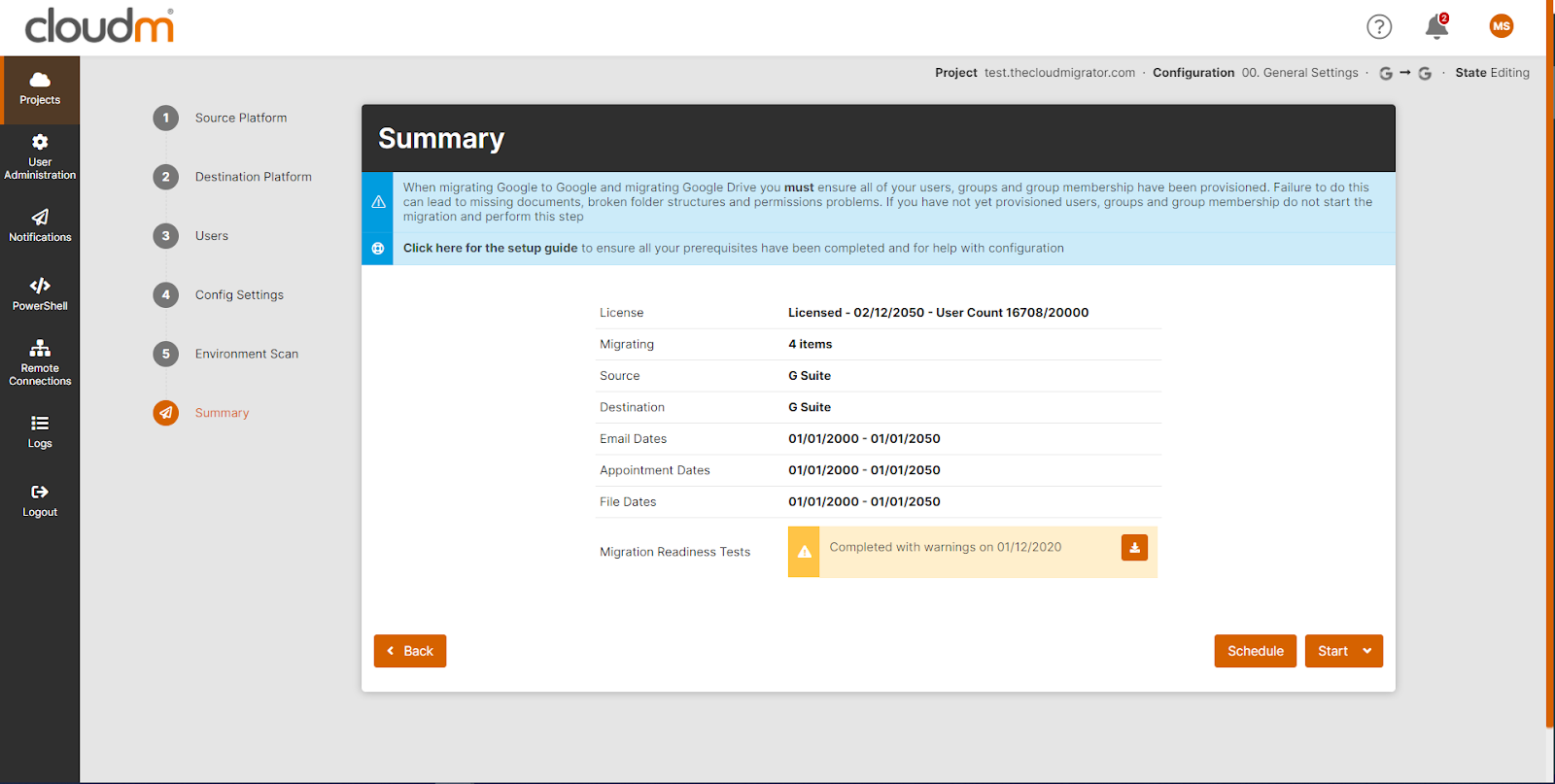 A Migration Readiness Test pop-up screen will be displayed, as shown below,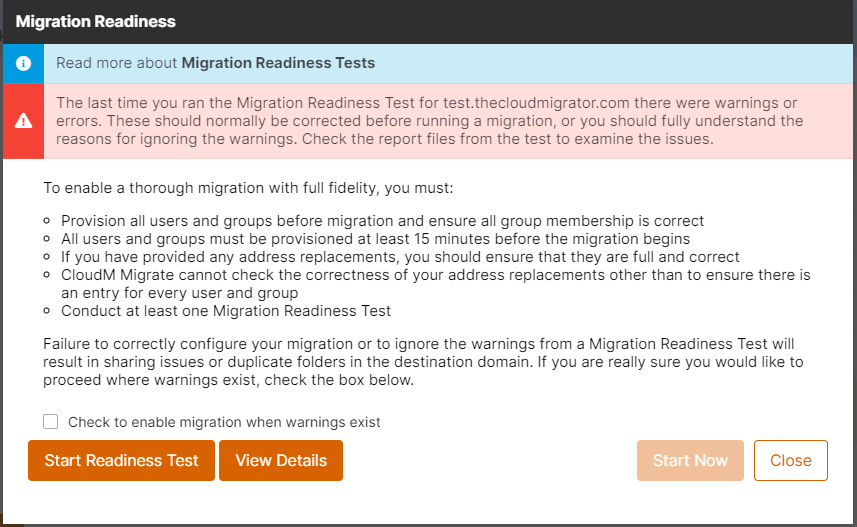 You can choose to skip the Migration Readiness Test (by placing a tick in the checkbox), but we highly recommend running the test,

Select Start Readiness Test,

The results will start to propagate as settings are checked,
If the setting is properly configured, the check results will be highlighted in Green,

If the setting is different to the default value, it will be highlighted in Blue with a description of the setting. These results reflect changes that you have made, but should still be checked here to make sure that they are still correct for your migration,

If the setting has failed (usually when attempting to connect to a source or destination platform), the check result will be highlighted in Red. These settings need to be rectified or your migration will fail.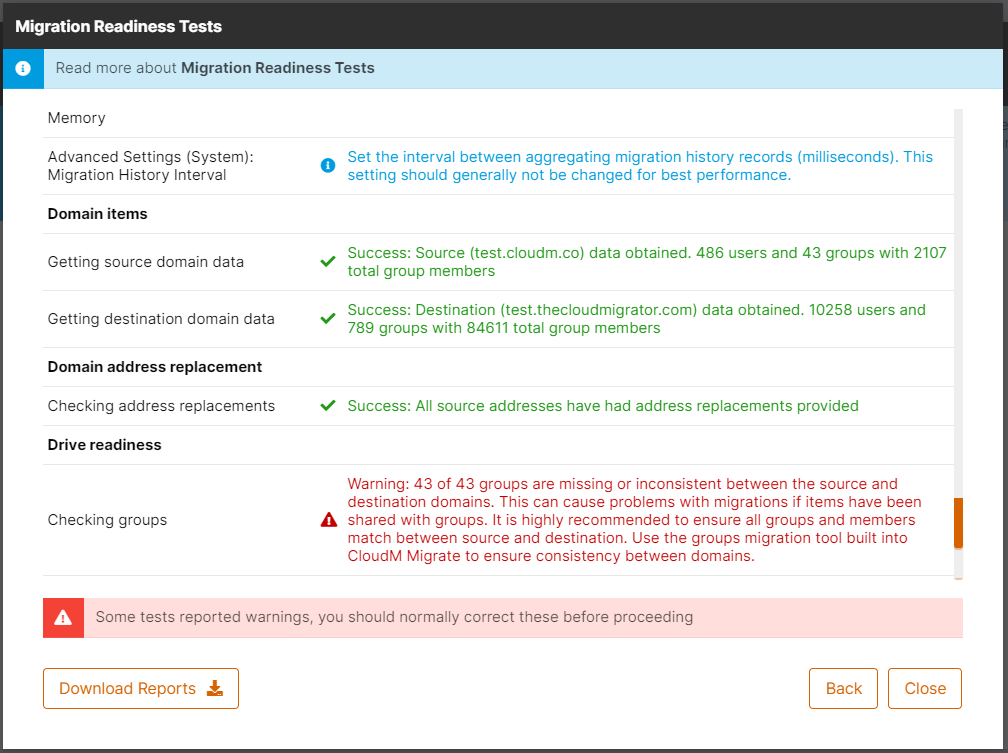 Select Close to close the pop-up screen.

Once all errors are corrected, you can start your migration.
To export the report (for example, if prompted by our Support Team):
Once the test has been completed, select the Export option,

The report will be exported in CSV format and will save in your computer's Downloads folder.

Attach the CSV file to your Support ticket.
Review your migration results
During the migration process, CloudM Migrate will report back in real time exactly who is being migrated and the items being processed. All you now need to do is sit back, relax and wait for your migration to complete.
Check the progress of your migration.
Once complete you can download a full report for your migration.