This quick start guide provides you with the basic information to configure CloudM Migrate for a migration from GroupWise. It is highly recommended that you read the application documentation in full for your platforms in order to understand all of the options available to you during a migration.
Software
Requirements
The following software should be installed on the migration workstation:
CloudM Migrate x86
Novell GroupWise client, version 6.5.6 or higher. The client installation must be compatible with the server installation
Novell Client 4.91SP4 or higher
It is also recommended that you install Novell ConsoleOne with all the GroupWise plugins in order to verify your setup.
What else do I need?
The Hostname or IP address of the GroupWise server

(typically 1677)
Existing GroupWise account (does not have to be an administrator)
Step-by-step guide
Create a Trusted Application
For CloudM Migrate to impersonate users and read their inbox without their password a Novell GroupWise Trusted Application must be created. Trusted Applications are used by third-party programs in order to securely log into Post Office Agents (POAs) in order to access GroupWise mailboxes.
"For GroupWise 2014, follow this guide to create Trusted Application:
https://www.novell.com/ documentation/groupwise2014r2/ gw2014_guide_admin/data/adm_ sys_tools_trusted_ applications.html
For other GroupWise versions, use this guide:
https://support.microfocus. com/kb/doc.php?id=7020416 "
Novell Login
To successfully create a trusted application, you need to be logged into the workstation via the Novell client with full Administrative rights over the Post Office, Domain and Cluster.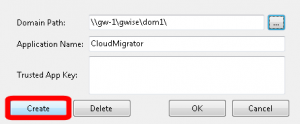 If necessary, verify that the trusted application has been created within the GroupWise system then in ConsoleOne, navigate to 'Tools->GroupWise System Operations->Trusted Applications', where a list of trusted applications will be displayed.
To delete a trusted application all fields must be completed, including the value of the old trusted application key, and then click 'Delete'. Trusted applications can also be deleted using the Novell Administration tools.
Configure CloudM Migrate
Select your Novell GroupWise version in the platform selector:

Select Novell GroupWise 6.5.6
Select Novell GroupWise 7.0.3
Select Novell GroupWise 8 or Higher

Enter the settings into the GroupWise server settings
Enter your license key and click Apply.
Setup your destination platform. Instructions are available for Google Workspace, Google Vault, Microsoft Exchange or Microsoft 365 and Exchange Online Archives.
Select Next to test the configuration connection using the configuration test tool. See this article for more information about the connection test tool. You will also need to complete the settings for the destination platform before running this test. If any problems are encountered with the connection test, please examine the error and make the adjustments to your configuration settings.
Generate your user list and select the users and items you would like to migrate in the 'Users/Resources' tab.
Start your migration


If you have any specialized needs, or would like to learn more about the migration options and how they can be used to make sure your migration is performed in an appropriate way for your organisation, please refer to the advanced options.
Migrating GroupWise Archives